Convoy Delivering Relief in Response to Hawaii Wildfires
USA
Reported by Convoy of Hope
November 15, 2023 | 10:28 a.m.
In its ongoing efforts to assist those affected by the devastating wildfires in Maui, Convoy of Hope continues to deliver vital relief supplies and help in unique ways.
Containers filled with essential supplies, such as food, sports drinks, water, and hygiene items, arrive in Maui on a regular basis. These supplies help fill the immediate needs of those still grappling with displacement after losing their homes and belongings to the wildfires that scorched the region in early August.
As cleanup efforts progress, Convoy has distributed Personal Protective Equipment (PPE) and sifters to help families sort through what is left of their belongings.
Convoy also provided a 40-by-60-foot tent that will be used at a local school during school hours to provide extra space for students and teachers. On weekends, the tent will function as a distribution point for essential supplies, further extending Convoy's reach in serving the community.
Convoy is working with the Federal Emergency Management Agency in a joint effort to relocate more than 20 families who lost their homes. Convoy is providing furniture and appliances to assist these families in rebuilding their lives.
Thank you for your continued support as Convoy remains dedicated to long-term recovery in Maui. Your generosity is helping Convoy bring help and hope to those facing the continuous challenges of rebuilding after the devastation of one of the deadliest wildfires in a century.
September 12, 2023 | 3:16 p.m.
Convoy of Hope is working in Maui, providing resources to survivors of the wildfires that burned across the island in August. Residents are still waiting for permission to access their homes and begin the sorting and salvaging process.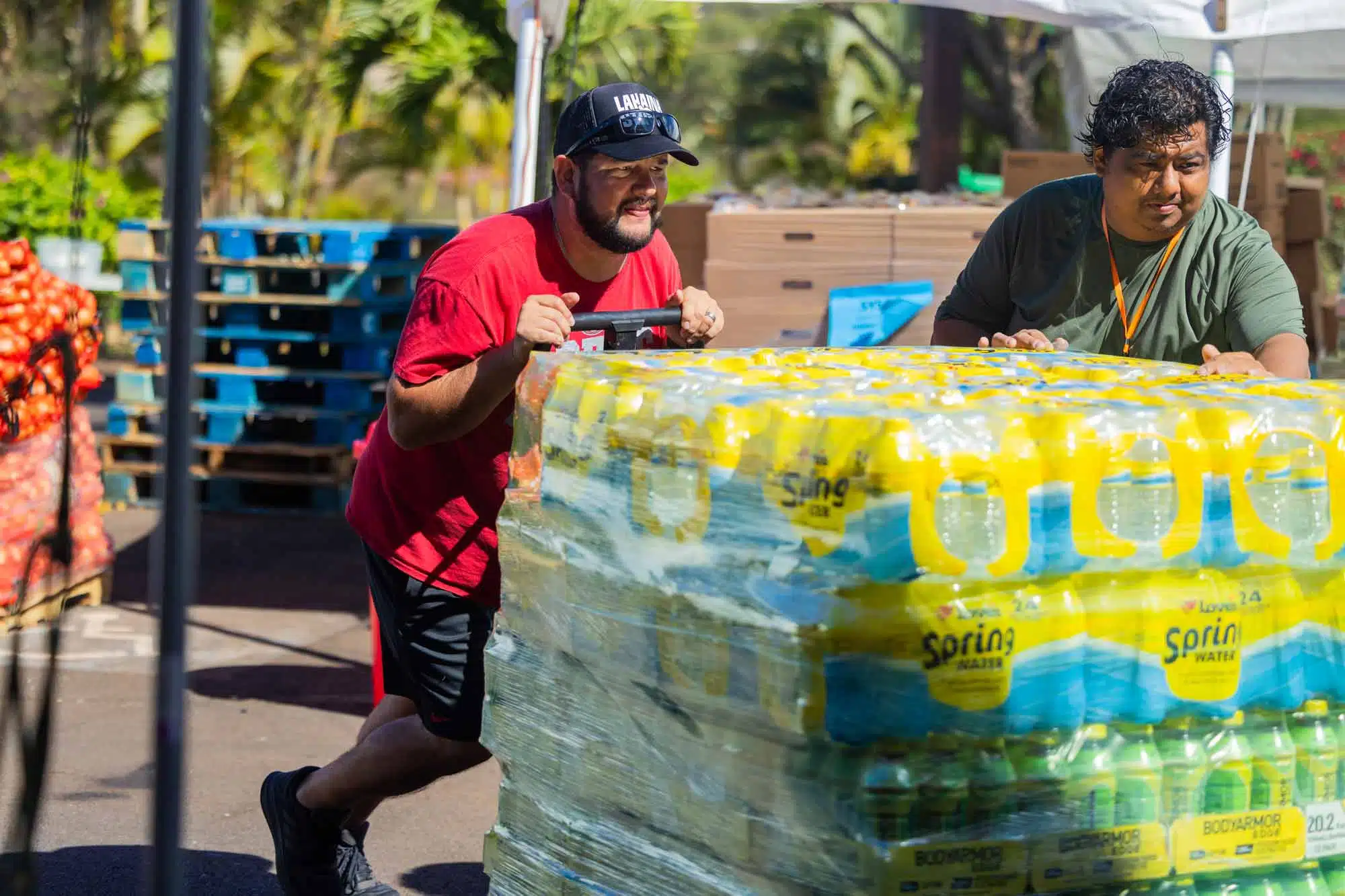 Convoy is working through partners to provide resources like food, water, and hygiene supplies. Convoy is also delivering resources to hotels that are housing displaced individuals and families.
The number of people missing was previously a staggering 850. That number has now dropped to 66, and the confirmed death toll is still 115.
The damage from the fires is daunting. Convoy is dedicated to helping the residents of Maui as they look to start rebuilding.
September 8, 2023 | 11:19 a.m.
One of the most pressing needs faced by wildfire victims is a dependable source of electricity. Watch the latest update to learn how Convoy is providing a source of light, communication, and security by working with local partners in Maui to build solar-powered battery boxes.
September 5, 2023 | 3:17 p.m.
Convoy of Hope is still on the ground in Maui after catastrophic wildfires caused mass destruction across the island last month. Additional resources arrived in Maui last week, including generators, food, water, sports drinks, and hygiene kits.
The fires resulted in at least 115 fatalities, and 385 people are still missing. More than 2,100 acres burned, leaving more than 2,200 structures and buildings destroyed. More than 85% of the structures that burned were residential, forcing thousands of people to live in shelters and the homes of friends and family.
Convoy is dedicated to remaining in Maui and helping survivors with their immediate needs. When a family receives a bag of groceries or a kit to take care of their baby, they also receive hope and the knowledge that they are not forgotten.
August 24, 2023 | 12:45 p.m.
Convoy of Hope is working with partners in Maui to bring help where there is hurt. Field and mobile distributions help fill the gaps for individuals and families displaced by the fires. While these families look to rebuild their lives, a burden is lifted off their shoulders with access to food, water, and hygiene supplies provided by Convoy.
August 22, 2023 | 4:28 p.m.
Convoy of Hope continues to run field and mobile distributions in Maui to ensure individuals and families have the support they need.
One of the ways Convoy is helping families after the intense wildfires is by ensuring they have the funds for laundry services while they temporarily stay in hotels. With thousands of homes destroyed and families displaced, this stop-gap housing option is the only choice many Maui residents have.
A local church, King's Cathedral Lahaina, lost their church building in the fires. Despite the difficulties surrounding their own recovery, church members partnered with Convoy this past weekend to deliver more than 200 hot meals to other families affected by the wildfires.
Because of your generosity, Convoy has distributed tens of thousands of pounds of relief supplies to Maui residents so far, relieving some of the burden that has been heaped on their shoulders in the past two weeks.
August 21, 2023 | 2:28 p.m.
Through mobile and field distributions, Convoy of Hope is providing the people of Lahaina with food, water, hygiene kits, baby care kits, and more as residents begin to rebuild their lives.
Some 850 people are still missing, and the death toll is more than 100. The destruction is widespread. Convoy is working with partners on the ground to continue bringing hope amid devastation.
Watch the latest video update for more information.
August 18, 2023 | 11:45 a.m.
Convoy of Hope is still serving survivors of the wildfires in Maui. Relief teams are distributing ice chests and ice to those suffering in the heat due to power and water system failures.
More than 1,000 people are still unaccounted for, and thousands more lost their homes and businesses. Convoy stands with survivors and is committed to serving them as the begin to rebuild.
August 17, 2023 | 10:50 a.m.
Convoy of Hope is on the ground in Maui, assessing needs and providing relief supplies to people left destitute by the wildfires.
The death toll of the wildfires in Maui has risen to 111. Search and rescue teams continue to search for the 1,000 or more people still unaccounted for.
Though some families' homes were spared from the fires, they are living without power and unsure when it will be restored. Convoy is working with a local partner to provide battery boxes that will allow families to run lights, operate fans, and charge cell phones. These boxes can be recharged with solar energy and used daily.
Along with designated distribution sites, Convoy is completing mobile distributions in neighborhoods to ensure people who can't make it to the established distribution areas still receive supplies.
The road to recovery in Maui is long, but Convoy of Hope is committed to helping meet needs along the way.
August 16, 2023 | 1:49 p.m.
Convoy of Hope continues to work with partners in Maui. Convoy is working to swiftly mobilize relief supplies to survivors who are in desperate need after historic wildfires destroyed the city of Lahaina. As of this morning, the death toll stood at 106.
Right now, it's estimated that the fire has caused about $3.2 billion in property losses. Roughly 3,000 buildings were damaged or destroyed by fire, smoke, or both.
Convoy is committed to being in Maui for the long-term to provide the hope the community needs to heal from this tragedy.
August 15, 2023 | 3:34 p.m.
Yesterday, as Convoy of Hope team members passed through the town of Lahaina with Kawi Keahi, who narrowly escaped the flames that overtook his home, he shared the story of fleeing the fire.
"So we ended up grabbing what we could — which is not much — grabbed the dog, threw her in the car," said Kawi. "There was no law enforcement directing traffic at all, so it was like total chaos. Everybody [was] just trying to get out of Lahaina, get to safety."
Like many others, Kawi was caught off guard by the speed of the fire.
"Next thing I know, I looked behind me and the car that was behind me, was just encompassed in black smoke. And above that, the top of buildings, you could see the flames. The buildings were already on fire, but we made it out."
Convoy of Hope is on the ground in Lahaina and helping local partners distribute relief supplies to the survivors of the blaze. With the death toll just under 100 people, emergency management professionals are expecting the death toll to rise considerably as search and rescue efforts continue.
In addition to helping local churches distribute supplies, shipping containers of food, hygiene kits, and baby care items are en route and expected to arrive in the coming days. With nearly every building in the town of 13,000 destroyed, the residents of Lahaina are going to need support and relief for months — and potentially years — to come.
Even after losing his own home Kawi is driven to help those who are hurting in his community by bringing the tangible supplies and hope that is so desperately needed. "… it's like the love for people has increased to new levels. We get to go out and express the love of God to people, and let them know they're not in it alone."
Convoy of Hope is standing alongside the residents of Lahaina in their time of need. With your help, we can support survivors like Kawi Keahi as they begin the process of healing and rebuilding.
August 14, 2023 | 11 a.m.
Convoy of Hope is responding to the deadliest wildfires the U.S. has seen in more than a century. Convoy's teams are in Maui now distributing essential supplies like food, water, sports drinks, hygiene items, and more.
As of Friday night, the fire that tore through Lahaina had been 85% contained, according to County of Maui officials. At least 96 people were confirmed to have died, but officials warned the figure was likely to rise.
Convoy of Hope had the honor of meeting with Lt. Gov. Sylvia Luke over the weekend. Convoy's team heard firsthand how devastating these fires have been and the impact they have had on everyone in the region. In the meeting, Convoy heard what the greatest needs will be moving forward and how to help meet them.
Through partnership with The Home Depot Foundation, Convoy has sourced essential supplies locally and began serving those in need over the weekend. Working alongside local church partners, Convoy is helping manage locally donated supplies and is strengthening its distribution network to serve the entire affected region.
Many of the supplies Convoy will distribute will come from its new Regional Distribution Center in Sacramento. Its strategic location on the West Coast mean that the supplies will arrive in Hawaii a week faster than originally planned.
August 11, 2023 | 11:33 a.m.
A case of water, hygiene kit, and a bag of food can mean the world to someone in Hawaii who has lost everything. Convoy of Hope has staff and supplies en route to provide that life-changing support.
Hawaii Gov. Josh Green said in a recent briefing that hundreds of homes were destroyed and at least 2,000 people will need to find places to stay — he added it's the greatest emergency the state had experienced in decades. Green has called on people to take in displaced residents from west Maui if they are able to do so.
The National Weather Service says Hurricane Dora was partly to blame for strong winds that drove the flames, interfering with response to the fire. The number of deaths increased to 55 on Thursday evening.
Together, we can respond to the urgent need in Hawaii. Thank you for your support that directly helps survivors of disasters.
August 10, 2023 | 9 a.m.
Convoy of Hope is responding in Maui, Hawaii. Team members and resources are en route to help provide relief amid the devastation that multiple communities face.
The Maui wildfires have now killed 36 people. Though the winds are finally decreasing as Hurricane Dora moves farther away, fires are still burning on the island.
Maui resident Dustin Kaleiopu reported that, in a matter of 36 hours, his entire town was destroyed.
"Every single person that I work with, the people that I see at the bank, the grocery store, everyone I know is now homeless. … There's nothing left," he told NBC News.
More than 14,000 people were displaced in Maui yesterday. The fires have burned hundreds of acres, destroyed homes and businesses, and left tens of thousands of people devastated.
"These were small businesses that invested in Maui. These were local residents. We need to figure out a way to help a lot of people in the next several years," Lt. Gov. Sylvia Luke told CNN.
The road to recovery is long, but Convoy of Hope is there to relieve some of the burdens today and provide hope for tomorrow.
August 9, 2023 | 8:40 p.m.
Convoy of Hope is in communication with partners on the ground in Maui, Hawaii, as raging wildfires have decimated entire communities on the island. Relief supplies are being prepared for delivery as communities are grappling with the disaster.
The fires are still out of control and hundreds of people are evacuating their homes — some even fleeing into the ocean to escape the flames.
At least six fatalities and 20 serious injuries have been reported. The Hawaii wildfire is fueled in part by the strong winds off of Hurricane Dora, a Category 4 storm.
"Our main focus right now is to save lives and preserve lives," Mayor Richard T. Bissen Jr. told NBC News.
"We never anticipated in this state that a hurricane which did not make impact on our islands, will cause this type of wildfires," Lt. Gov. Sylvia Luke told reporters at Wednesday's news conference. "Wildfires that wiped out communities, wildfires that wiped out businesses, wildfires that destroyed homes."