Relief Supplies En Route to Survivors of Conflict in Sudan
Sudan
Reported by Convoy of Hope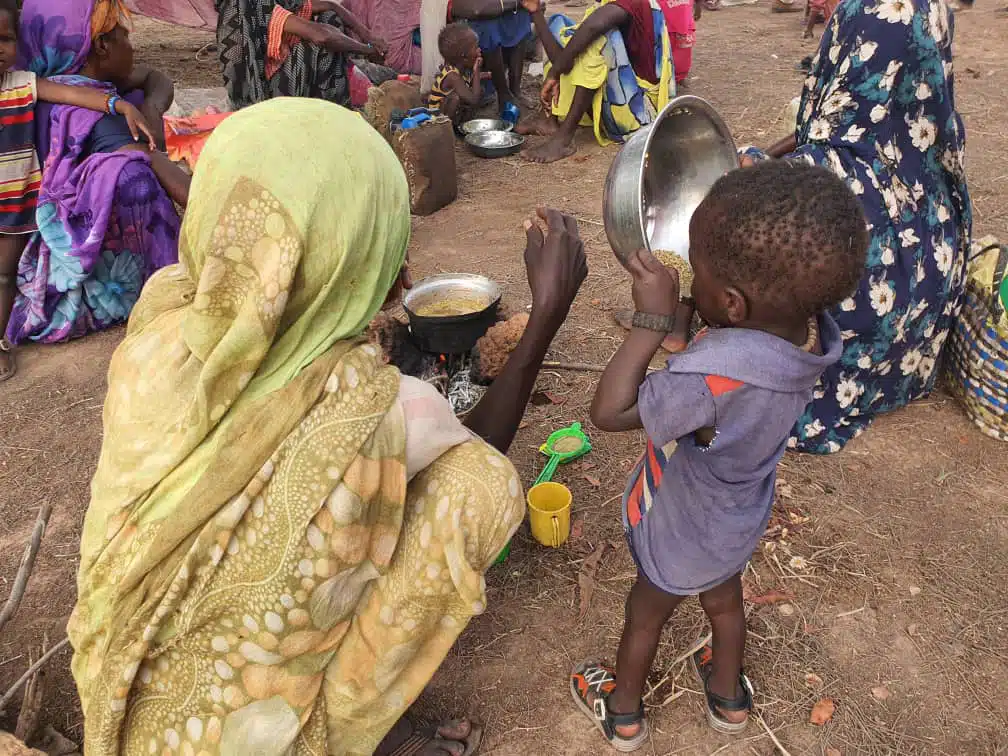 September 14, 2023 | 2:23 p.m.
As the conflict in Sudan continues, Convoy of Hope remains engaged in relief efforts.
Horrific conditions, such as lack of shelter, waterborne illness, and disease, continue to plague refugee camps filled with people who have fled their homes to find shelter and safety from violence. As the fighting between the Sudanese Armed Forces and the Rapid Support Forces paramilitary group nears the five-month mark, at least 5,000 civilians have been killed and 12,000 injured.
The lack of sheltering tents leaves many families — including those with the elderly, nursing children, sick, and wounded — left completely exposed to the elements. As more families arrive daily to the camps, the lack of shelter becomes more and more grave.
Recently, Convoy distributed mosquito nets in one of these refugee camps. This camp is home to nearly 15,000 people. Mosquito nets are extremely important, as many expectant mothers and children are fighting for their lives against malaria, a disease most commonly transferred through the bite of an infected mosquito.
Convoy of Hope is committed to helping the people of Sudan as they struggle to live among violence and unrest. To help Convoy continue distributing vital relief supplies, donate to Convoy's Crisis Relief Fund.
August 4, 20, 2023 | 11:37 a.m.
Convoy of Hope is working to provide relief in Sudan. Convoy is making steady progress in heavily affected camps and villages, bringing relief in the form of food, mosquito nets, and water filtration systems.
In mid-April, fighting broke out between the Sudanese army and a paramilitary group. This conflict has now forced nearly 4 million people to flee their homes. The World Health Organization has reported cases of infectious diseases and other illnesses among displaced populations who have had to seek shelter in locations where health services are limited.
"The scale of the health crisis is enormous," said Dr. Nima Saeed Abid, WHO Representative in Sudan, speaking during a virtual press conference.
According to UN News, more than 6 million people are now one step away from famine. Additionally, more than 20 million people across Sudan are facing high levels of food insecurity.
As the situation in Sudan worsens, Convoy of Hope is committed to supplying devastated people with as much relief as possible for as long as possible.
July 20, 2023 | 10 a.m.
Convoy of Hope is working in Sudan to provide relief for those left displaced and vulnerable by violence.
Earlier this year, conflict broke out in Sudan between two warring military groups. Since April, more than 3 million Sudanese people have been forced to flee their homes to find refuge from the violence and unrest.
Since the beginning of the conflict, Convoy of Hope has been responding to the needs of those who are displaced and vulnerable. Convoy has dedicated time, teams, and resources to finding ways to distribute vital supplies to people and places that are difficult to reach.
What Is Happening in Sudan?
The situation in Sudan deteriorates day by day, bringing more and more challenges to providing relief. Currently, many families are fighting to simply survive. Lack of aid and food, oppressive heat, waterborne illnesses, disease, and continual threats of violence are exacerbating the current crisis and creating an extremely grave humanitarian disaster.
This week alone, 200,000 additional people have been forced to flee their homes due to the violence and unrest. When people are forced to flee for their lives, they are only able to take with them what they can carry, further limiting the resources they need to survive.
Of the 3 million people who have fled, only half a million have been able to flee out of the country. More than 2.4 million Sudanese people have fled their homes to find refuge in temporary camps within Sudan.
Of the many reports Convoy receives, the majority bear the worst news imaginable. Children are falling ill to diseases like malaria and cholera. Without food, clean water, or medical care, parents struggle to keep their children alive. Many reports from the field are riddled with stories of attacks from the warring forces throughout the night. Often, entire villages are wiped out.
A local volunteer sent Convoy this harrowing update: "The living conditions in Sudan are deplorable, with many families residing in makeshift shelters. This dire situation exposes young children to environmental-related diseases, such as malaria. The need for shelter is eminent to address this urgent issue."
What Are the Needs in Sudan?
The need in Sudan is immense and complex. Convoy of Hope is working in Sudan, making steady progress through heavily affected camps and villages by providing food, mosquito nets, and water filtration systems. One of the most recent visits to a village provided support for 500 families.
Due to accessibility issues in logistics and security, hundreds of thousands of cries for help are not being heard nor met. At each camp or village Convoy serves, team members hear countless stories of suffering.
Convoy of Hope will continue to stand with those who can't leave and provide care to those stuck in horrific circumstances. To help provide relief for those suffering in Sudan, you can donate to Convoy's Crisis Relief Fund.
June 5, 2023 | 5:04 p.m.
The conflict in Sudan continues as more people face displacement, food insecurity, and devastation. Convoy of Hope is working with partners in the area to provide essential relief supplies for survivors.
Upon arrival in Sudan, Convoy learned of the substantial need for additional food for displaced families and refugees. Convoy of Hope is one of only a few nongovernmental organizations able to send resources to Sudan. Because of the conflict and unrest, the situation is dangerous for humanitarian organizations and civilians who want to help. During the first round of distributions, 300 families received blends of fortified rice to help sustain them amid the conflict.
Convoy of Hope will continue to work with partners in the area to continue distributing vital relief supplies to people affected by the conflict.
May 22, 2023 | 4:35 p.m.
Distributions have officially begun in Sudan in response to the ongoing conflict between two military forces. Convoy of Hope is working with partners on the ground to ensure vulnerable people receive the vital supplies they need to survive.
More than 1 million people are now displaced as a result of the conflict. Stocks of food, cash, and essential supplies are rapidly dwindling as panic ensues and order collapses. Millions of people in Sudan are living in a nightmare of fear, danger, and the unknown. Convoy is there to provide hope, help, and relief to people who desperately need it.
May 19, 2023 | 12:02 p.m.
It's now been a month since the start of the conflict between the Rapid Support Forces (RSF) and Sudanese Armed Forces. The city of Khartoum is the main battleground. According to Convoy of Hope's partners in the area, those who cannot afford to leave the city are left to endure extremely difficult conditions. Civilians are experiencing severe shortages of essential supplies, electricity, water, and medical services.
Khartoum's dire situation is compounded by the scarcity of basic resources. Gas stations throughout the city are empty and closed. People remaining in the city face increasingly catastrophic conditions.
Relief supplies from Convoy of Hope are in Sudan and are ready to be distributed as soon as possible. Convoy's goal is to bring relief and hope for tomorrow to those affected by the conflict.
May 12, 2023 | 11:38 a.m.
Since mid-April, fighting between Sudanese Armed Forces and paramilitary Rapid Support Forces has continued in Khartoum, with clashes occurring in Darfur and several other areas in Sudan. Hundreds of people have been killed and thousands have been injured.
Violence and a lack of basic necessities have forced many from their homes. Currently, an estimated 700,000 people have been displaced by violence and internal conflict in the past few weeks, adding to the 3.7 million who had already been internally displaced within the country before the conflict began.
Convoy of Hope is working with partners to bring relief to camps of people displaced by violence. One million meals are planned to be distributed in Sudan to help sustain those who do not have consistent access to food. Water filtration systems are also being distributed, so families have access to clean drinking water.
May 5, 2023 | 12:05 p.m.
Convoy of Hope is responding to the crisis in Sudan due to escalating conflict. Forces loyal to two different generals are fighting for power and civilians are suffering. Many people are trying to flee to safety, adding strain to neighboring countries with limited resources.
Food and water filtration supplies are being sent to help people who are unable to flee the conflict. "Our teams are in action right now to mobilize and provide immediate relief," said Convoy's Chris Dudley.
Hundreds of thousands of people have been internally displaced by the conflict and unrest already. Uncertainty surrounds Sudan, but one thing is sure: Convoy of Hope will be there to provide immediate relief and a sense of hope for those affected.