All About Hurricane Emily
Reported by Convoy of Hope
There has been no shortage of storms named Emily. Fourteen tropical cyclones — seven in the Atlantic Ocean, five in the Eastern Pacific Ocean, and two in the Southern Hemisphere — have carried the name. Seven have grown to hurricane status.
The National Weather Services announced the formation of Tropical Storm Emily, the fifth tropical storm projected for the 2023 hurricane season, on August 20. Communities in its path will try to decide what precautions they should take based on how serious an impact the storm might have in their area.
Emily's wind speed will determine whether it will be listed as a hurricane. All named storms are a form of tropical cyclone — a rotating, organized system of clouds and thunderstorms that originates over tropical or subtropical waters and has a closed low-level circulation.
Tropical Depression — when a cyclone has sustained wind speeds of less than 39 mph. Tropical depressions are not given names but are tracked to determine if they are developing into tropical storms or hurricanes.
Emily's classification as a tropical storm and the release of its name happened when its sustained wind speed reached 39 mph.
Should that speed reach 74 mph, Emily will be a hurricane.
Even if a tropical storm never develops into a hurricane, it can pose a threat to lives and property — as a result of heavy rain, flooding, and intense winds.
When Was Hurricane Emily?
When you see a named hurricane in the headlines, it's natural to wonder if another storm with that name was ever famous. Perhaps you've asked yourself, "When did Hurricane Emily hit?" or "What year was Hurricane Emily?"
Among the 14 Emilys, half of which became hurricanes, we'll look at three that really stood out.
Hurricane Emily in 1987 was a Category 3 hurricane. In 1993, Emily again reached Category 3 status. Hurricane Emily in 2005 became a monster Category 5. Fortunately, loss of life was minimal in all cases.
Where Did Hurricane Emily Hit?
In 1987, Hurricane Emily began to intensify, with 125 mph peak winds, just before landfall on the island of Hispaniola, shared by Haiti and the Dominican Republic.
Although 1993's Emily followed a track over much of the Atlantic Ocean, its approach toward the United States caused record flooding in the Outer Banks of North Carolina. Part of the hurricane eye passed over Hatteras Island in the Outer Banks. On the Pamlico Sound side of Hatteras Island, floods left behind water marks as high as 10.5 feet. Tourism suffered greatly because of an enforced evacuation during Labor Day weekend, costing the local economy some $10 million.
The Category 5 Hurricane Emily of 2005 made landfall initially in Grenada on July 14 as a Category 1 storm.
Its strength grew, and it hit Mexico as a Category 4 hurricane after coming close enough to several Caribbean islands (including the Windward Islands) to cause significant damage.
The Cayman Islands had expected serious storm damage, took widespread precautions, and came through the storm largely unscathed. Emily reached its peak strength on July 16 before it weakened to a tropical depression over Mexico.
What Category Was Hurricane Emily?
• As a Category 3 storm, Hurricane Emily in 1987 expended much of its energy over the ocean. But it was still powerful enough to cause landslides in the Dominican Republic.
• In 1993, Emily was again a Category 3 storm, with its greatest impact felt along the U.S. Atlantic seaboard.
• The Category 5 Hurricane Emily of 2005 had the distinction of coexisting with Category 5 Typhoon Haitang in the Pacific. It is rare for two Category 5 storms to hit the Northern Hemisphere simultaneously.
What Time Will Hurricane Emily Make Landfall?
If you're studying past storms to find out "What time did Hurricane Emily make landfall?" it won't help you prepare for a current storm.
With any current storm that the weather services expect to reach your region, you should be aware of the predicted landfall. With hurricanes, the mistake of waiting until the last minute to reach a safe area can prove deadly. This article will be updated as more details about 2023's Emily become available.
How Many People Died in Hurricane Emily?
Besides the extent of property damage caused by a tropical storm or hurricane, you might naturally ask, "Did anyone die in Hurricane Emily?"
• Three people in the Dominican Republic lost their lives to Hurricane Emily in 1987. Two were killed in the mudslides, and one person was killed after stepping on a downed power line.
• In 1993, two people drowned in rough surf in Nags Head, North Carolina, as the fringes of Hurricane Emily lashed the coastline.
• In 2005, Hurricane Emily was responsible for 17 deaths — 12 among several Caribbean islands and five in Mexico.
• Although it never achieved hurricane status, Tropical Storm Emily in 2011 brought severe weather to many Caribbean nations. One person was killed on the island of Martinique, and three people drowned in the Dominican Republic.
What Was the Path of Hurricane Emily?
A cyclone's path can extend for thousands of miles from a tropical depression, potentially through hurricane status, and then final dissipation. In 1987, Emily, like many cyclones, originated off the west coast of Africa. The storm connected with an Intertropical Convergence Zone before separating and developing into a tropical depression. It became Tropical Storm Emily as it approached Barbados. It later moved out of the Caribbean to dissipate in the North Atlantic.
In 1993, Hurricane Emily had its beginnings in an African tropical wave that passed through the Cape Verde Islands. Although much of its path remained in the Atlantic, its approach toward the U.S. coastline was cause for great concern.
In 2005, Emily's first hints came in a tropical wave off the west coast of Africa. From its formation into a tropical storm, its course held in a relatively straight bearing as it moved from the mid-Atlantic, across the northern coast of South America, and through the Caribbean. It impacted Mexico's Yucatan Peninsula and steadily weakened in the Gulf of Mexico and into mainland Mexico.
Convoy of Hope & Hurricanes
After a hurricane is named, Convoy of Hope's Disaster Services team follows weather updates closely. Plans begin to materialize at Convoy's World Distribution Center days ahead of a predicted landfall. A convoy of trucks is dispatched toward the affected area. Once the danger has passed and a community's needs become clear, one or more distribution points are set up.
Volunteers assist Convoy team members at each distribution point, usually a local church. Pallets of supplies are offloaded from semi-trucks across large parking lots in strategic locations.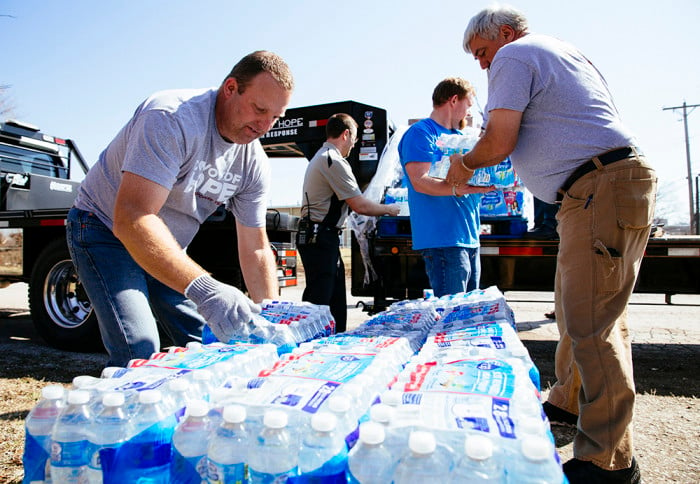 On distribution days, lines of cars form to receive groceries, bottled water, bags of ice, cleaning supplies, and other resources desperately needed following a storm.
Convoy of Hope is a faith-based nonprofit organization with a driving passion to feed the world through children's feeding initiatives, community outreach, and disaster response.