Flooding in Kentucky & St. Louis Calls For Response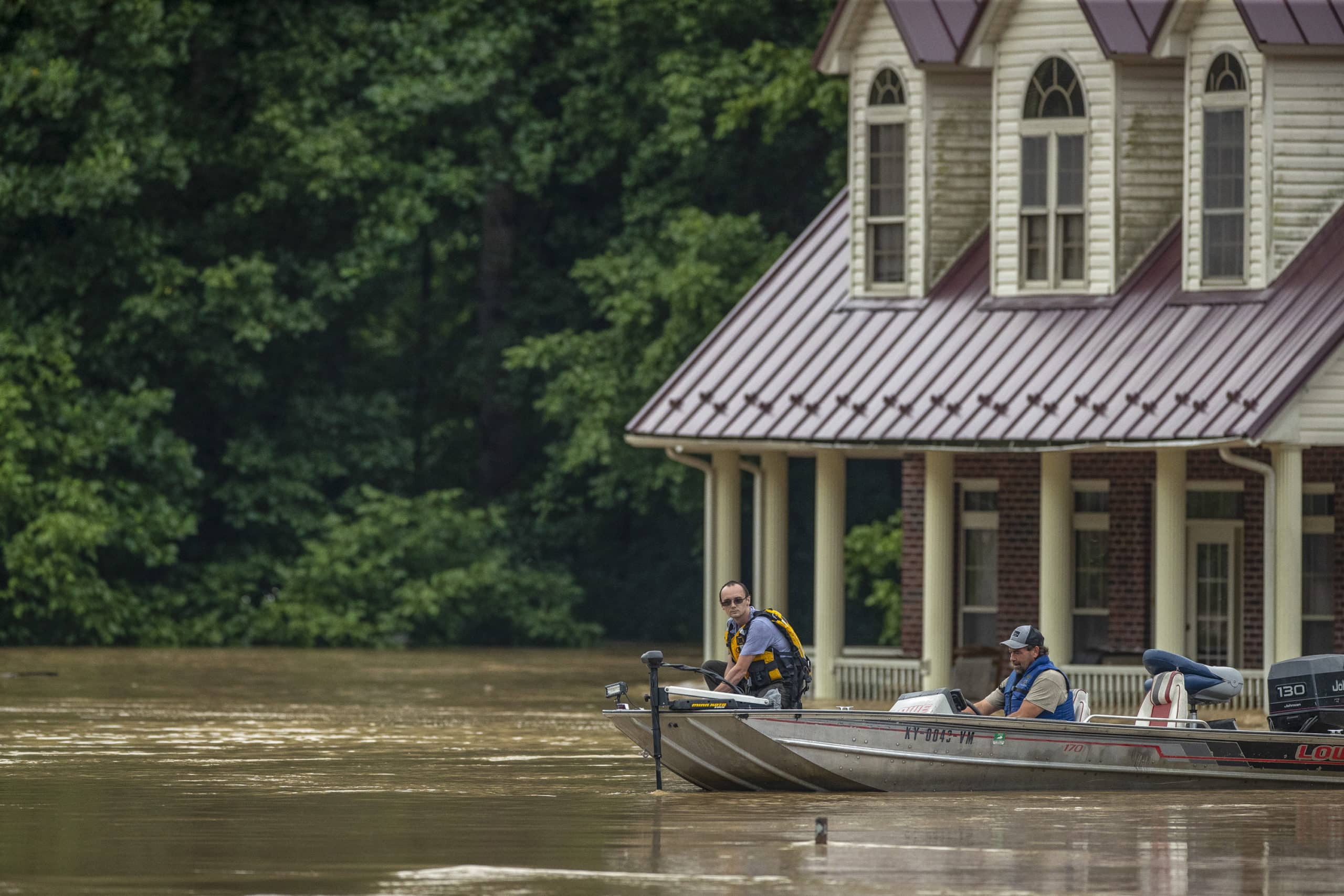 Photo above: Homes are flooded by Lost Creek, Kentucky, on Thursday, July 28, 2022. Heavy rains have caused flash flooding and mudslides as storms pound parts of central Appalachia. Kentucky Gov. Andy Beshear says it's some of the worst flooding in state history. (Ryan C. Hermens/Lexington Herald-Leader via AP)
August 1, 2022 | 4:53 p.m.
Flooding in St. Louis and Kentucky last week caused billions of dollars in damage and changed thousands of lives forever. On July 26, St. Louis faced its largest rainfall event in the area since 1874. More than 12 inches of rain fell across St. Charles county, and two people lost their lives.
Roughly 48 hours later, deadly floods in Eastern Kentucky left tight-knit communities devastated. Rescue crews worked through more rain on Sunday to restore power and water — and recover bodies. The death toll sits at 30 as of Monday afternoon.
President Joe Biden ordered federal aid on July 29 to assist with recovery efforts in Kentucky. This aid comes amid severe flooding, landslides, and mudslides in 13 counties. Convoy of Hope is among those delivering hope and supplies to these Appalachian and Missouri communities.
Teams from Convoy left on Sunday with several loads of supplies for people in affected areas. So far, teams have delivered more than 122,000 pounds of product and served more than 6,000 individuals in Kentucky.
According to the state's governor, Andy Beshear, the primary need is drinking water. This is something Convoy has prioritized for distribution.
Convoy also continues to work in St. Louis, having distributed more than 9,000 pounds of supplies. Teams will continue to serve the region through partnership with state emergency management. Convoy will also provide resources for several Multi-Agency Resource Centers (MARCs).
Additionally, Convoy of Hope has identified strategic partners in flood-affected areas. These partners will assist with distribution and keep track of the situation.
Unfortunately, weather patterns predict Kentucky will see more severe weather in the coming days. This is on top of the severe flooding and a continued heat wave.
Your support helps people in desperate situations caused by floods. We thank you for your generosity. To support survivors in Kentucky and St. Louis through the Crisis Relief Fund, click here.